BMS Audi Porsche VW 1.8 & 2.0 TSI Group 1-6 JB4 Tuning Box (Inc. MK7 GOLF R, 8V S3, Macan & Seat Leon)
£429.00


exc. VAT

£357.50

£357.50
---
---
You may also wish to add the Data Cable or the Bluetooth Connect Kit for additional features.
Description
The VW Group 1-6 JB4 is a true user adjustable plug and play solution for all MQB based models in the VW Audi Group range. Power Gains: Starting at 45bhp and 45ft lb with 91 octane/95Ron with + 4.50psi boost over stock on the default setting. Up to 100bhp and 70ft-lb with bolt on modifications, higher octane and boost adjustment with the optional BMS Data Cable.

The JB4 BETA features CANbus connectivity for more advanced tuning, direct AFR control, advanced safety systems for boost, air/fuel ratio, fuel trims, and engine knock, boost mapping by gear for improved traction, integrated water/meth control, and much more.

The unit can be used with the BMS Bluetooth Connect kit providing for full in car engine parameter display, map switching and adjustment The JB4 Beta can also be stacked over a flash tuning allowing for fine tuning as well as meth control with safety measures in place and full logging. This is highly recommended.

This product covers group 1-6 of VW JB4 products. All units comes with an optional custom map 6 setup, simply drop us an email with your vehicle details and we will assist you with setting this up. 
Compatibility
• Audi S3 8V
• Audi S3 Facelift
• Audi TTS 8S
• VW MK7 Golf R
• VW GTI Clubsport ED40
• VW MK7.5 Golf R
• VW Aerton 2.0T 280hp
• B8 Passat 2.0T 280hp
• Seat MK3 Leon Cupra
• Seat Ateca Cupra 
• Seat Leon Cupra 290
• Skoda Superb 280
• Skoda Superb 272PS 4x4

• VW MK7 Golf GTI and GTI Performance Pack
• VW MK7.5 GTI & 245hp PP
• VW MK7.5 GTI TCR 2019
• VW Tiguan II 2.0TSI 220hp/162kw (Non-US models only)

• Audi A3 8V 2.0T
• Audi TT 8S

• Skoda Octavia RS and 245HP
• Skoda Superb 2.0T

• VW Polo 6C GTI
• Audi A3 8V 1.8T FSI
• Audi A1 1.8TFSI
• Skoda Octavia 1.8T FSI
• Seat Leon SC FR 1.8TSI
• Seat Leon FR 2.0 TSI
• Seat Ibiza Cupra 1.8TSI
• 2020 Seat Leon Cupra ST R 2.0L 300PS 4WD with EA888 Engine

• Audi B9 A4 2.0TFSI 248hp/252hp 
• Audi B9 A4 2.0T Allroad  248hp/252hp 
• Audi B9 A5 2.0T TFSI 248hp/252hp 
• Audi B8.5 A5 2.0T TFSI 248hp/252hp 
• Audi A6 2.0T TFSI 248hp/252hp 
• Audi Q7 2.0T TFSI 248hp/252hp 
• Audi Q5 2.0T 248hp/252hp *
• Porsche Macan 2.0T 248hp/252hp *


**Also fits facelift & OPF/GPF equipped models.**
*Q5 and Macan need a small settings change. The Future Use D value needs to be set to 1 before installing the JB4, please contact us if you require this change prior to dispatch of your JB4.
 You can find the map information and further info on settings on N54Tech
Warranty
5 Year BMS Repair warranty
Manufactured by
Burger Motorsports
Part Number
VAG-JB4
Next Day UK Delivery
Get FREE Guaranteed next day UK delivery for orders over £50 (exc. VAT) on all in stock items. Same day dispatch available if your order is placed before 11:00 GMT on all in stock items!
Worldwide Shipping
We ship worldwide via DHL International, simply enter your full address at checkout to see the shipping option(s) and quote(s). Same day dispatch available if your order is placed before 11:00 GMT on all in stock items!
---
Customer Reviews
05/02/2020
Kevin M.
United Kingdom
Cheapest JB4
Cheapest place to buy a JB4 and rapid next day delivery. Excellent service and communication.
beginner tuning experience
ML Performance have impressed me. There response and help has been first class which is always a worry when buying at distance, but I needn't have worried. The JB4 is wonderful and the support from BMS is also amazing. I did take a long time getting the OBD and Data cable through the firewall (as i'm not the smallest person in the world), but once you realise you need to cut it rather than just poke a little hole in the ****** all is easy. Previously had a Stage2 APR on a EA888 gen2, and the JB4 on the gen3 brings the torque back making it a significant upgrade. The USP of the JB4 is its ability to use live data from the OBD and also allow us the users to log and tweak the tune on map6. Every engine responds differently so other tuning boxes would either need to compromise or risk the engine, with the JB4 you can log and see what is happening.
Great product
The JB4 is a great kit. I had done some research how to install it and managed to install it in about 1-2 hours. I would recommend removing the battery to help when passing the ODB cable through the firewall. The JB4 is really cool in combination with the bluetooth dongle to get all the reading and logging in your phone. The support from ML performance was great, would recommend them to anyone. Many thanks Dan
DF
04/15/2019
David F.
Very impressive product
Trickier to fit than some forums make out, I'd allow a couple of hours! Once fitted the JB4 works very well, you do need the app (around £25) if you went for the Bluetooth module but it allows you to set custom maps easily. I was surprised how easy it connects to your phone, no messing about - it just works! Service form ML Performance and Burger Motorsport was 10/10. You get a custom map from Burger by sending them logs and I was very impressed with the turnaround time. Thank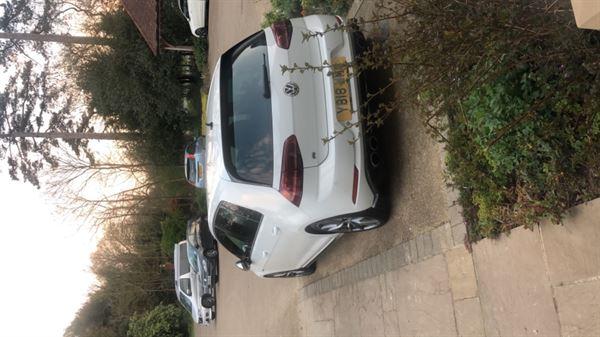 Great customer service and product!
Top customer service from the team at ML performance. Highly recommeded and a pleasure to be doing business with. The JB4 itself is also quite impressive ;)