Skip to product information

View full details
When developing these brake discs for the B8 RS4 & RS5, the mission set to EBC Brakes Racing was to engineer the highest quality 2-piece brake disc on today's marketplace, at any price point. Consequently, these discs are manufactured from the finest materials and take advantage of state-of-the-art manufacturing techniques, achieving a brake disc of exceptionally high quality.

All outer friction rings are cast from a high-copper, high-carbon G3500 disc alloy giving them a high resistance to wear and cracking, even when used on track or for racing. The cast iron outer ring 'floats' on EBC's patented SD-Drive technology bobbins, allowing the friction ring to expand and contract freely by up to 3mm when subjected to the extreme heat generated from hard braking.
The bells are precision machined from aerospace grade aluminium then hard anodised for great looks and excellent durability.
All bobbins are machined from a single piece of stainless steel, preventing unsightly corrosion and ensuring the outer ring continues to float freely, even after years of exposure to road elements. EBC Racing's 2-piece floating discs offer a low maintenance solution that are at home on both the public roads and the race track. Each bobbin location also features an anti-rattle spring clip, meaning these discs are totally silent in operation and do not have the 'off brake disc rattle' that is common with many other 'full race' 2-piece disc systems.
*Upgrading from a 1-piece disc to a 2-piece floating disc will shave crucial kilograms off your vehicles un-sprung rotational mass, providing a noticeable improvement in corner entry turn in, tyre road holding, fuel economy and increasing the BHP at the wheels. Additionally, when the cast iron friction ring becomes worn after a period of use, the outer ring can be replaced independently of the other disc components, allowing the centre hub and stainless bobbins to be re-used which significantly reduces long term running costs.
EBC left and right 2-piece brake disc
Engineered, manufactured and run-out tested at EBC's headquarters in Northampton, UK
Sold either as a direct OE replacement for vehicles where 2-piece brake discs are fitted as standard
OR
As a simple bolt-on 2-piece floating disc upgrade for vehicles with 1-piece cast iron discs fitted as standard*
48 directionally curved and handed vanes allow effective heat dissipation, resulting in lower operating temperatures that help delay brake fade
Friction rings cast from G3500 metallurgy with a high copper/high carbon content
Reduced weight compare to OE discs
Audi B8 RS4 & RS5 (2012 - 2015)
Manufactured by
EBC Brakes
Warranty
EBC one year or 10,000 miles warranty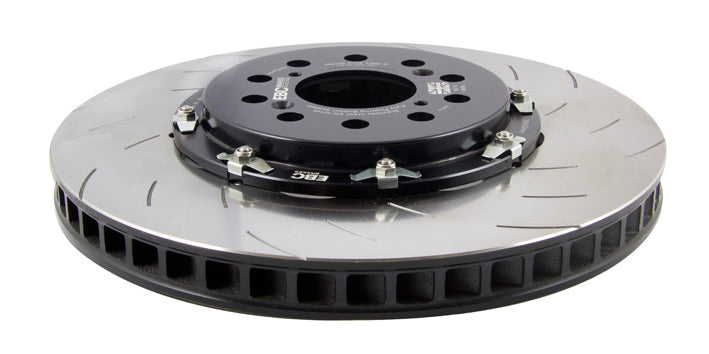 Price Match Guarantee

We are committed to giving you the best price. if you find a lower price on the same item at an eligible UK retailer website, we will match it.

Next Day UK Delivery

For in stock items, get FREE Guaranteed next day UK delivery for orders over £199, excluding delicate items, larger items and certain remote postal codes/areas. Same day dispatch available if your order is placed before 1pm UK Time.

Worldwide Shipping

We ship worldwide via DHL International, simply enter your full address at checkout to see the shipping option(s) and quote(s). Same day dispatch available if your order is placed before 1pm UK Time on all in stock items!