Skip to product information

KW SEAT VW COILOVER VARIANT 3 INOX (Leon, Leon SC, Cupra R, Cupra, Golf MK7, Golf GTI & Golf R)
KW SEAT VW COILOVER VARIANT 3 INOX (Leon, Leon SC, Cupra R, Cupra, Golf MK7, Golf GTI & Golf R)
Fitting service at Xatrix, West Yorkshire
We can offer a fitting service for this part. Contact us for a fitting quote.
View full details
Unlimited individuality for performance & comfort.
Damping forces can be adjusted separately in rebound & compression.
Our engineers have developed a sporty yet harmonious basic setup, as with any KW Coilover kit. To be able to guarantee the perfect suspension setup we test on our KW 7-post rig, as well as extensive driving tests on country roads, motorways and even on the Nürburgring Nordschleife. For years, the KW Coilover Kit Variant 3 inox-line is one of the top aftermarket products and is a benchmark for coilovers. It convinces sports car drivers, tuner, large-and small series manufacturers such as Alpina, MTM, Manthey, Oettinger and many more leading companies in the international automotive industry with its damping characteristics, quality finish and durability.

Advanced technology from motorsport
With the KW Coilovers Variant 3 inox-line, you will get much more than just a sporty lowering and excellent driving behaviour on all roads. It is based on our long experience as a suspension manufacturer and supplier for international motorsports, such as the touring car series ADAC GT Masters, FIA GT1, FIA GT3, International GT Open, WTC, VLN and the legendary ADAC Zurich 24h-race Nürburgring.

Similar to our racing Coilovers from the KW Competition program, the KW Coilovers Variant 3 inox-line can be adjusted independently in compression and rebound damping. This individual adjustment possibility is much appreciated by sports car manufacturers, tuners and drivers worldwide.

The perfect suspension setup for more driving pleasure
If you have already made your first performance modifications to your vehicle our KW Coilovers Variant 3 will compliment your upgrades. The patented KW-valve technology for separate adjustment of rebound and compression damping allows you to individual setup your suspension. The adjustable KW bottom valve adjusts the low-speed range of the compression level in twelve clicks.

You don't need any adjusting tools because of the patented compression adjuster at the lower end of the stainless steel housing. The adjustable compression damping with its twelve exact clicks allows you to manually influence body roll, without having to change the spring rate which optimally matches the rebound.

With the individually adjustable rebound setup of the KW Coilover Variant 3 inox-line, you can directly influence the handling and comfort with its precise click adjustment. Depending on the vehicle type, the rebound valves of the KW twin-tube dampers on the upper end of the piston rod will be adjusted via an integrated adjustment wheel or a twist-adjustment wheel which is included in the delivery content.

By increasing the rebound force via the adjustment wheel body movements are reduced. You will have more stability during high-speed cornering. If you change for example the wheel/tire combination (approved by the car manufacturer) to larger wheels, then with a KW Coilover Variant 3 inox-line you will be able to adjust the car's handling perfectly.
Print product description

High quality, individual and durable
The KW coilover Variant 3 inox-line kit and every single damper are subject to extensive quality tests during production to meet the high standards of our KW quality management. This is the only way we can meet our expectations to give up to five years warranty on our KW Coilover Variant 3 inox-line when installing at one of our KW specialist dealers. KW Coilover struts made of stainless steel are 100% rust-free and an unlimited lifetime.
Therefore the operation of the continuous lowering via the dirt-resistant KW trapezoid thread and the KW composite collar is also not affected after years. By the individual lowering with its continuous adjustment range, you can emphasize the sportiness of your vehicle visually. A feature that is very popular in the performance-oriented tuning scene.


Rebound and compression damping adjustable damper technology
Stainless steel technology inox-line
Individual, continuous lowering
tested adjustment range
High-quality components for a long life
Complete documentation for an easy handling
Adjustable rebound damping with 16 exact clicks
Adjustable compression damping with 12 exact clicks
Unique, independent from each other working damping force adjustment


Setup: The individual adjustable rebound- & compression damping of the KW Variant 3 inox-line
The KW Coilovers kit Variant 3 inox-line is the perfect accessory for performance-oriented drivers and tuning enthusiasts who put a great demand on their suspension. The separately rebound and compression damping adjustable dampers with their well-thought-through click adjustment allow a perfect setup. So it is easy to influence the steering behaviour, directional stability, tire grip and handling characteristics when driving on the limit.
SEAT LEON (5F1) (09/2012-) 5F1 1.0 TSI, 1.2 TSI, 1.4 TSI, 1.6 TDI, 1.8 TSI, 2.0 Cupra, 2.0 TDI
SEAT LEON SC (5F5) (01/2013-) 5F5 1.0 TSI, 1.2 TSI, 1.4 TSI, 1.6 TDI, 1.8 TSI, 2.0 Cupra R, 2.0 Cupra, 2.0 TDI

VW GOLF VII (5G1, BQ1, BE1, BE2) (08/2012-) 5G1, BQ1, BE1, BE2 1.0 TSI, 1.2 TSI, 1.4 TSI, 1.5 TSI, 1.6 TDI 4motion, 1.6 TDI, 1.6, 1.8 TSI, 2.0 GTD, 2.0 GTI, Clubsport S, Clubsport, BE2 2.0 GTI, BE2 2.0 GTI, 2.0 R 4motion, 2.0 TDI 4motion, 2.0 TDI, 2.0 R 360S 4motion

Please Note: This is for vehicles with without Electronic Damping Control (EDC)
 You may also require the adjustment guide.
Manufactured by
KW
Warranty
2 year (5 years if the kit has been installed at one a KW specialist dealer)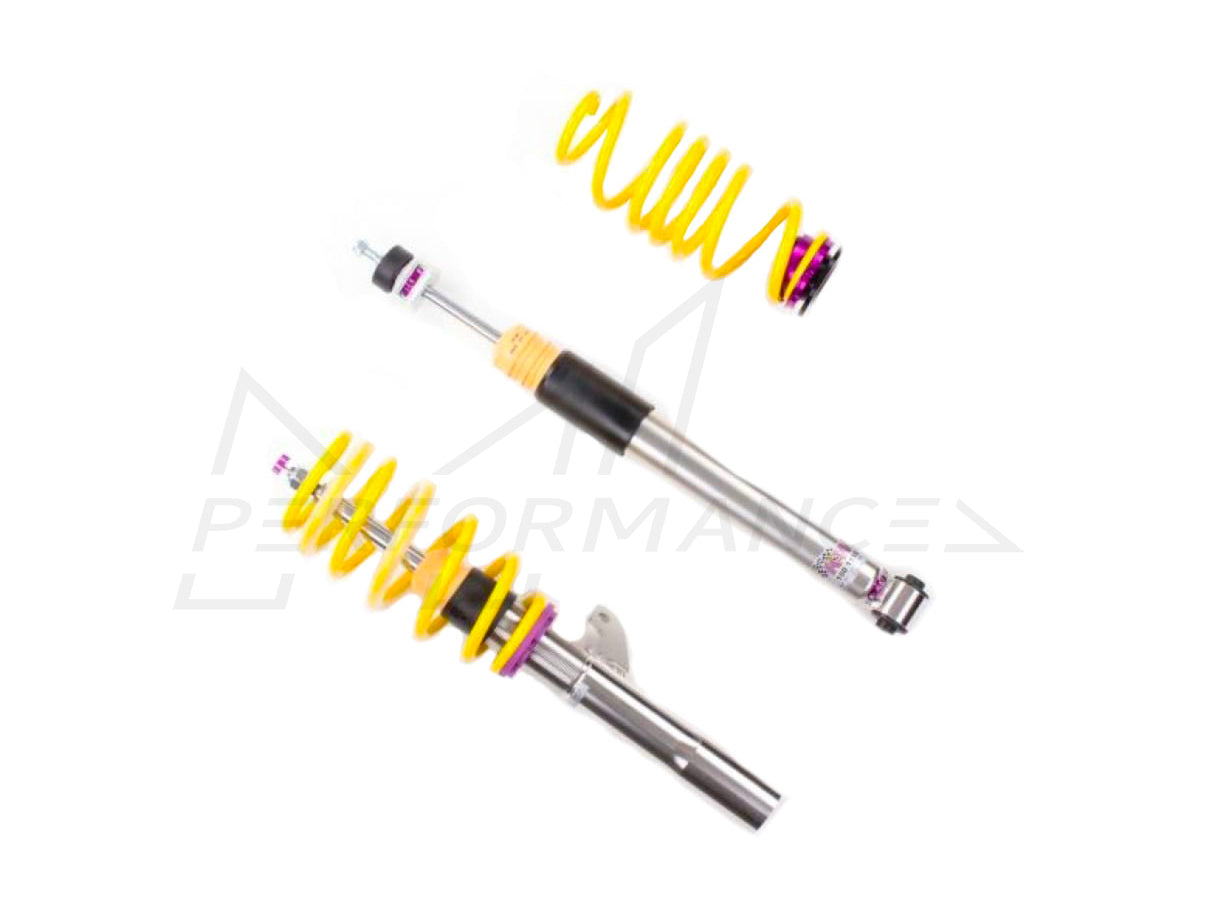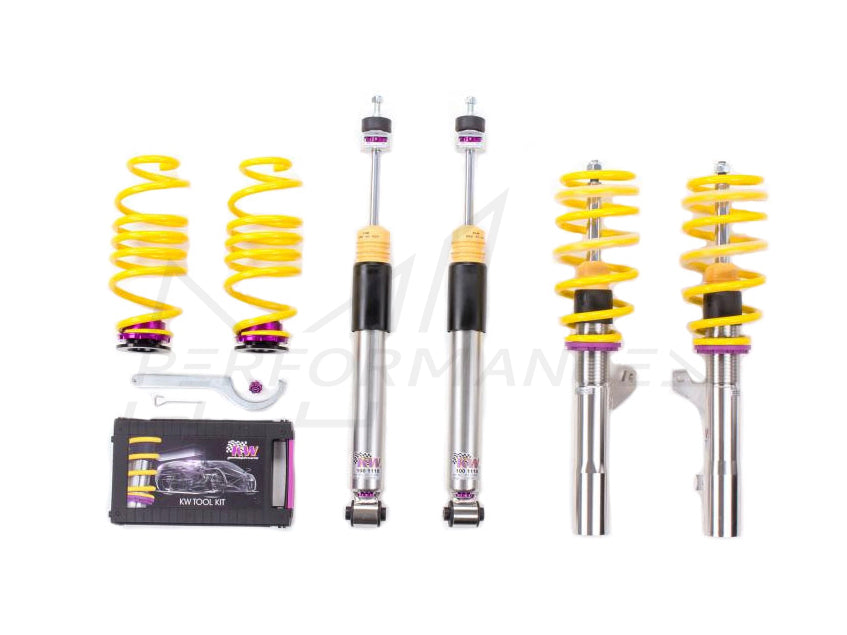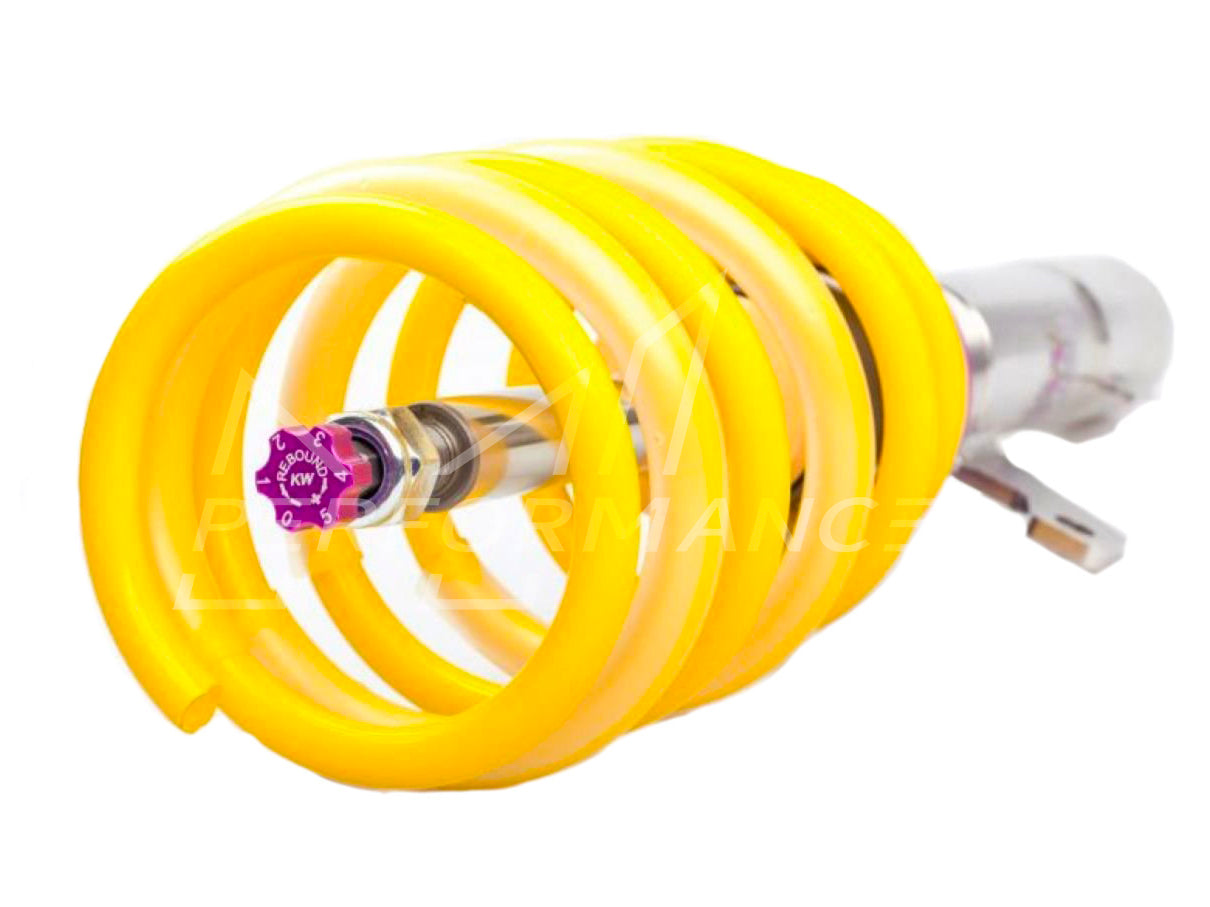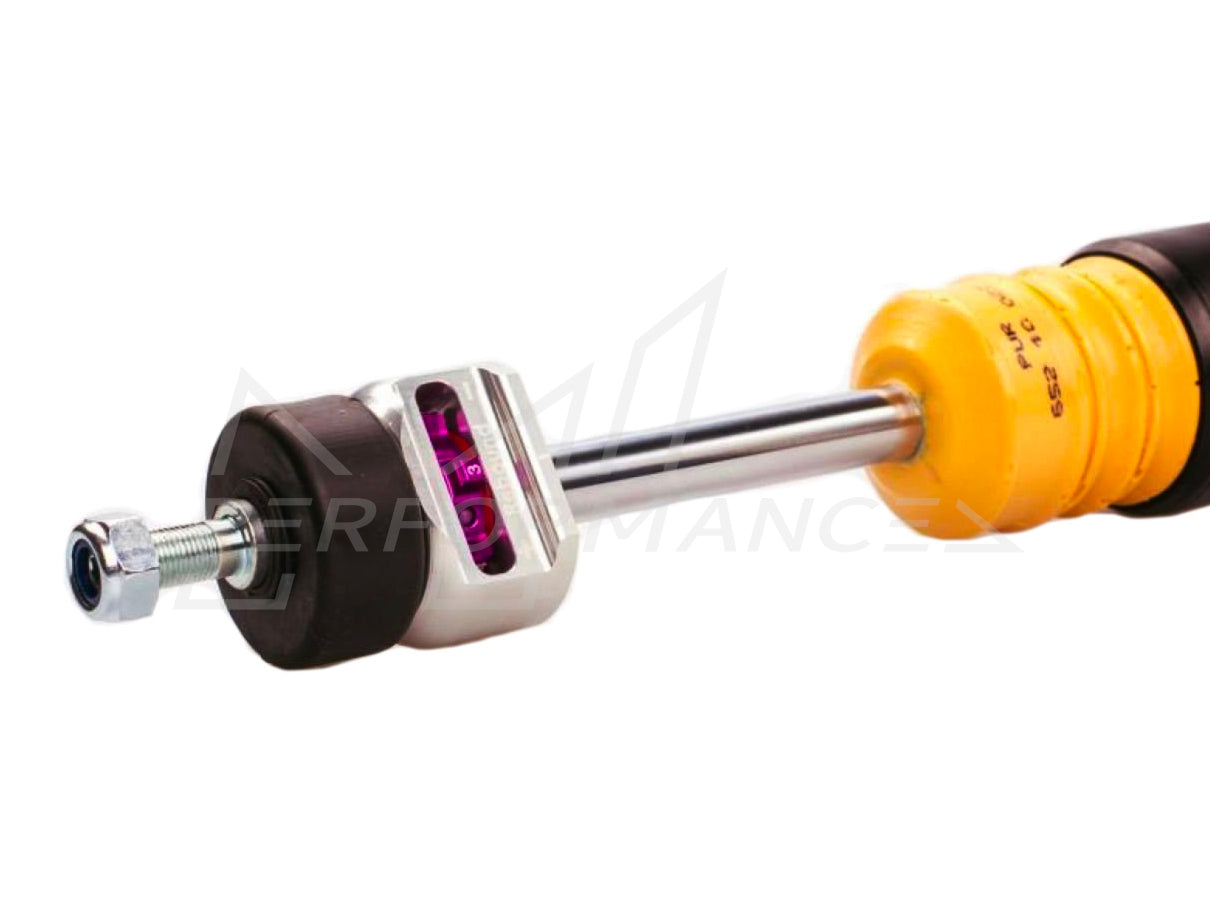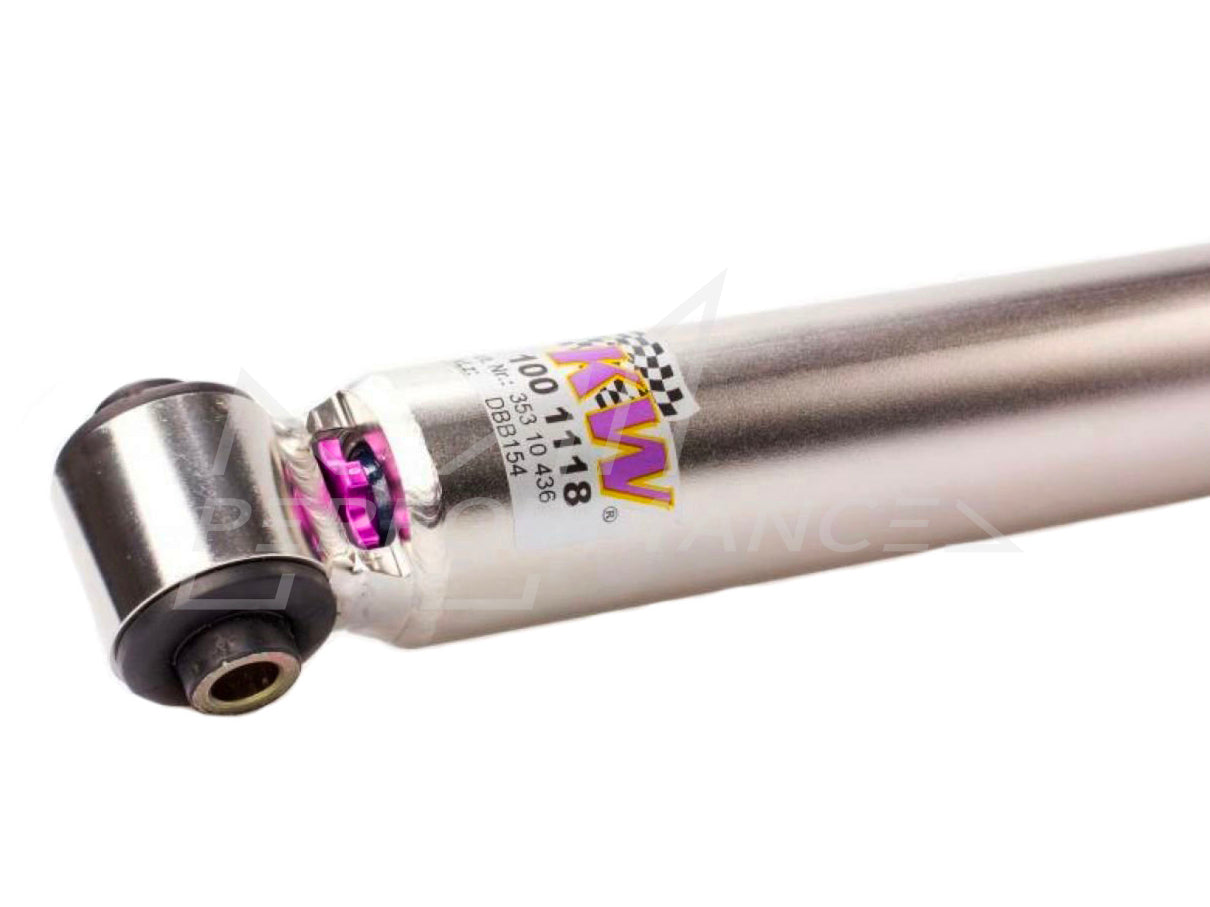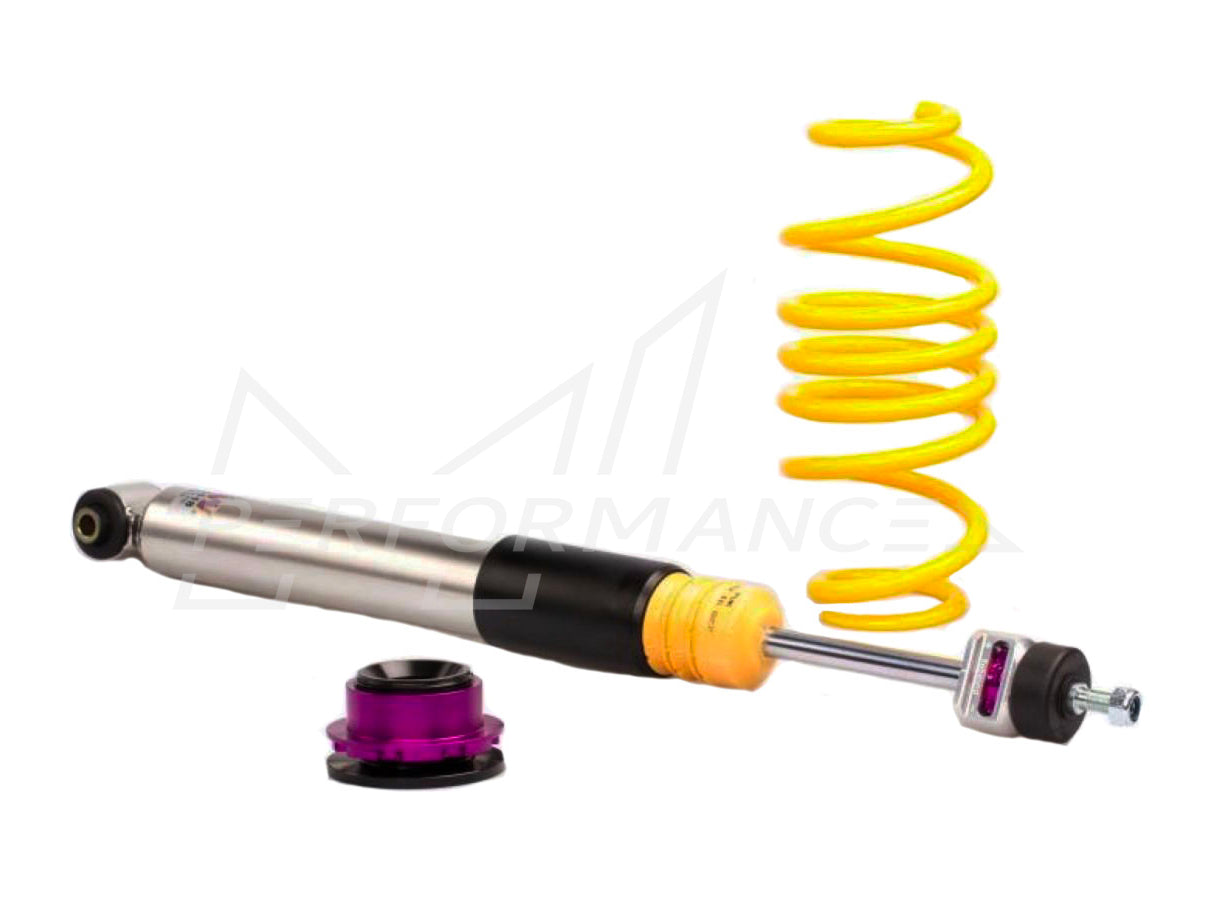 Price Match Guarantee

We are committed to giving you the best price. if you find a lower price on the same item at an eligible UK retailer website, we will match it.

Next Day UK Delivery

For in stock items, get FREE Guaranteed next day UK delivery for orders over £199, excluding delicate items, larger items and certain remote postal codes/areas. Same day dispatch available if your order is placed before 1pm UK Time.

Worldwide Shipping

We ship worldwide via DHL International, simply enter your full address at checkout to see the shipping option(s) and quote(s). Same day dispatch available if your order is placed before 1pm UK Time on all in stock items!