H&R BMW 1/2/3/4/5/6 Series F20, F22, F30, F32, F10, F12, F80, F82, F87 Wheel Spacers, lockers & Bolts (Pair) (inc. M2, M3, M4, M5, M6, M135i, M140i, M235i, M240i, 335i, 435i, 535i, 550i, 640i & 650i)
£102.95


exc. VAT

£85.79

£85.79
---
---
Description
The highest quality spacer you can purchase for your BMW. The H&R Spacers is designed specifically for the German born high performance BMW, using the best quality material on the market and exceptional quality control. This provides the ultimate performance for your pride and joy.
Unlike the cheaply made spacers flooding the market, the H&R spacers stands out from the crowd, all H&R spacers are made in Germany and TUV approved to the highest standard.
10 & 12mm spacers are not to be used on the rear of the F20/F30 vehicles, only 13mm onwards for your safety.
In the box

2x H&R Wheel Spacers
8x Extended length H&R wheel bolts
2x Extended locking wheel bolts
1x Key for locking wheel bolts
Fitted Photos
BMW F87 LCI M2 Competition -  Front: 12mm / Rear:10mm spacers, with H&R Lowering Spring - Special thanks to Mike P. from Platinum Detailing. 
 BMW F20 M135i - Front: 12mm / Rear: 15mm 
Fitted with 25mm H&R lowering Springs - Special thanks to David P.
BMW F20 M135i - Front: 12mm & Rear: 15mm 
BMW F20 M135i - Front: 15mm & Rear: 15mm spacers
BMW F31 340i - Front: 10mm & Rear: 13mm spacers
 - Special thanks to George J.
BMW F82 M4 - Front: 12mm & Rear: 15mm spacers
Fitted with 30mm MSS Adjustable Ride Lowering Springs - Special thanks to Stephen D.

BMW 2018 F87 M2 - Front: 12mm & Rear: 15mm spacers
 

Special thanks to Callum J

. from BMW M2 Owners UK
Compatibility Check
To ensure the part(s) you have ordered fits your vehicle, we run a compatibility check prior to dispatch. We can do this either using your registration number(UK) or the last 7 digits of your VIN. Simply enter your car details prior to checkout. 
Compatibility
1 series F20 F21 2010+
114i, 116i, 118i, 120i, 125i, M135i(xDrive) & M140i
114d, 116d, 118d(xDrive), 120d(xDrive) & 125d
2 series F22 F23 2013+
218i, 220i, 228i, 230i, M235i(xDrive) & M240i(xDrive)
218d, 220d & 225d
3 series F30 F31 2011+
316i, 318i, 320i, 320i(xDrive), 328i(xDrive), 330i(xDrive), 335i(xDrive) & 340i(xDrive)
316d 318d(xDrive), 320d(xDrive), 325d, 330d(xDrive) & 335d xDrive
4 series F32 F33 2013+
418i, 420i(xDrive), 428i(xDrive), 430i(xDrive), 435i(xDrive) & 440i(xDrive)
418d, 420d(xDrive), 425d(xDrive) 430d(xDrive) & 435d(xDrive)
5 series F10 F11 2009+
520i, 523i, 528i(xDrive), 535i(xDrive) & 550i(xDrive)
518d, 520d(xDrive), 525d(xDrive), 530d(xDrive), 535d(xDrive) & M 550d xDrive
6 series F12 F13 F06 March 2011+
640i(xDrive), 650i(xDrive) & 640d(xDrive)
M Series F87 2015+
M2
M Series F87 LCI 2018+
M2 Competition
M Series F80 F82 2011+
M3, M3CS, M4, M4 CS & M4 GTS (inc. models with Competition package)
M Series F10 2010-2016
M5
M Series F06 F12 F13 2012+
M6 & M6 Competition
X Series F25 Sept. 2010+
X3 xDrive 20i, X3 xDrive 28i & X3 xDrive 35i
X3 xDrive 20d, X3 xDrive 30d & X3 xDrive 35d
X Series F26 April 2014+
X4 xDrive 20i, X4 xDrive 28i, X4 xDrive 35i, X4 M40i
X4 xDrive 20d, x4 xDrive 30d, X4 xDrive 30d
Manufactured by
H&R
Next Day UK Delivery
Get FREE Guaranteed next day UK delivery for orders over £100 (exc. VAT) on all in stock items. Same day dispatch available if your order is placed before 11:00 GMT on all in stock items!
Worldwide Shipping
We ship worldwide via DHL International, simply enter your full address at checkout to see the shipping option(s) and quote(s). Same day dispatch available if your order is placed before 11:00 GMT on all in stock items!
---
Customer Reviews
09/05/2020
joseph w.
United Kingdom
07/17/2020
Chun H.
New Zealand
H&R spacer 15mm
Loving my new spacers. Quality is great as expected after doing much research online. Love how it comes with all the lug bolts and a pair of locking lug bolts, save me the hassle of ordering those separately. Now my F30 is running 255/40R18 at the front, same tyres and wheels as those for rear. No more understeer. Awesome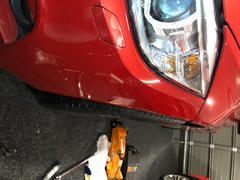 04/29/2020
Andrew F.
United Kingdom
Reliable through lock down
Cant fault my parts were all delivered when promised many thanks.
12/28/2019
Mark H.
United Kingdom
H&R spacers
Great advice and service. My go to place
12/21/2019
Nhlamulo M.
South Africa
Fantastic customer experience
Ordered an Eventuri Intake System and H&R Spacers. My goods were delivered within 8 days from ordering them (mind you from the day on which the goods left MLP HQ and arriving at my front door in South Africa was just under 3 days - I am truly impressed by the service. The Staff as well at MLP are extremely friendly. Thank you!!!